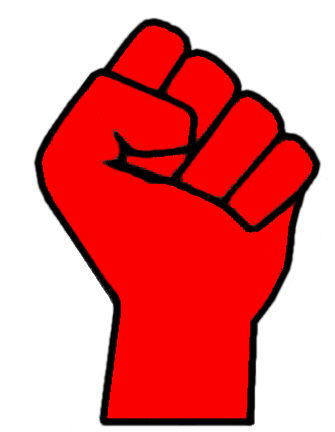 Disenfranchised groups currently upset and disturbed by the state of America are also that favorite liberal buzzword: Dis-empowered.
They are separate, fragmented "clans" of MRMs, conservatives, WNs and anti-Illegal Immigrationists, etc.  This has all been seen before in "The Advent of The Isms" – GIFY.
The crucial point these varied groups fail to realize is they fight a common enemy: Liberalism.  When and if they finally have their revelation, they can unite as clans did under Hollywood's Braveheart – IRL William the Conqueror, Attila and Ghengis Khan etc.  Until then, liberals will always continue to divide and conquer, keeping power from groups that keep stumbling in circles of frustrated repetition, howling "what's the matter – can't anybody SEE what's going on?"
The five fingers form a hand – a fist – alternately bashing and strangling the life out of its fragmented, split enemies. Call it today's "Advent of the Ists."
In order of threat, The Five-Fingered Fist (FFF) is composed of:
Media Propagandists
Black Fascists
Open Border supporters – Hispanics
Government Unionists & Academics
Feminists
Homosexual Activists
Yeah there's six – no shit sherlock.  There's more, too – if you have the brains to identify them.  FFOL is merely a tool to get you to focus.   Don't you be one, and a clod to boot.   It is very clear to see the influence of Mainstream Liberal media from Network "News" to Hollywood to the New York Times and all others of their plots.  You know who runs them.  Just LIUFY who the heads of media groups are.  Case closed.  Compare the ethnicity between screenwriters to body-bagged Jordies fresh from The Latest (non-declared) War.
Supporters of black fascism are also composed of many whites. There are also Jews, but all these "diverse races, colors & creeds" are liberals.  Black fascists seek not only the destruction of the power structure of Whites – but also of all Whites themselves.  Observe and learn how their rabid political philosophy totally reveals itself and its membership whenever a Trayvon or OJ emerges.  WNs (White Nationalists) are wise to almost the entire list, but ignore #3 and often lean in favor of #4 when it comes to "white knighting" to preserve the sanctity of their race via White females. This is a natural reflex that liberals exploit: MRAs (men's rights activists) are frequently opponents of WN and fight each other to the delight of Liberals wielding The Fist.
Illegal Immigration supporters have much in common with black fascism in their combined goal of eradicating Whites. They set aside their ghetto-barrio animosities for the Big Picture and unite when practical – such as electing a Barack Obama.  Opponents of Illegal Immigration usually fixate solely on Their Cause and thus, are totally oblivious to 3 through 5.  They view blacks as "Americans" and any criticism of blacks as deplorable racism, which gives plausible deniability and credibility to a cause easily targeted and dismissed as racist by mainstream liberal media.
Opponents of Government Union Oligarchy care only for #3 and ignore the rest of the fingers closing around their throat.  Any critical discussion on race is rapidly accused of being racism and censored, thus alienating potential allies. Today's entire American Federal Government is staffed and run by Affirmative Action minorities: blacks, black females, hispanics, hispanic females and white females.  So, are each 50 State governments. Take a walk through your local federal or state office complex. Don't be scared: Open your eyes.
Chief opponents of Feminism are MRAs, who also ignore all but their primary opponent.  They fail to realize when they attack feminism, #3 & #5 – a homosexual/lesbian Manboobz coalition and Friend of The Court government entities – form a structured, rapid response team quickly united against them.  Many of these fem-enemies also, are white males. A fatal flaw of mrm is the failure to realize Feminism actually conquered Government long ago and now holds all the power.  The fight is no longer with the ex over alimony & custody, but with her sister-in-law who is the Attorney General.
When sufficiently beaten down, blacks and hispanics pile on – if they so choose the easy entertainment of shooting fish in a barrel.  Mainly, they do not because they have no reason to get off of the couch.  When WNs seek allies among the totally white mrm, they are rapidly censored.  Blacks and Illegals have no cause to fight WNs at mra sites because, white mras do it for them.  The legal power of Socialist Government creating and enforcing a VAWA does the dirty muscle work while mras are oblivious, choosing to fight only women – not government, the Power that backs women. In other words, while they wrestle with one finger and fail, the entire fist knocks mras out.  They foolishly think once their fantasies of Ending Alimony and getting full custody of Junior arrive, America goes back to The Brady Bunch Era. Instead of reactionary white knighting for women, mras white knight for the black.
Homosexuals and Lesbians with their new, fortified coalition of additional reserves – the LGBTQ – are mostly silent now because like the feminists, they also achieved total victory.  Here's a pamphlet/link from the formerly staid, moral Texas Tech University showing how you (and your son, too) can also be a "Q" – the newest addition to the sexual degenerate family. LGBTQ's run government. They are Barney Frank. They sought, fought and won power to marry, inherit and be your boss.  They run Policy, law, courts, colleges and Hollywood.  Fagbashing is now unheard of in America.  Now it's mainly blackflashmobs  bashing whites. You see no formidable groups opposing homosexuals today; such groups are all but extinct.
Hollywood, is another matter. It supports all Five Fingers of The Fist and serves as its Public Relations firm and Ministry of Propaganda.  The only value Hollywood has, is as a clear picture of what your enemy looks like – in totality.
White people – white men – can dangerously, also be Bill Maher.  Liberals have a curious unity that conservatives do not. (Better to dispose of that inadequate "conservative" moniker to create a unifying label like "anti-liberal.")
What opponents of The Five-Fingered Fist of Liberalism fail to grasp is their common enemy.  All supporters of the FFF are liberals but its opponents, not all conservative.
How to describe that curious unity in order to reveal the enemy? Blacks hate whites. hispanics hate whites – as do Government Types – but government also hates males as verified by mras.  Feminists and Manboobz homosexuals hate the same specific target.  Blacks and hispanics mainly hate white males for the potential threat of the anthropological counterattack of male warrior violence.  Together, their Secret of Unity – their power – is their common enemy: White Males.
Opponents of the FFF must realize their real enemy is not only black, a feminist, professors or MSM operatives – but all of these groups combined and often operating independent of one another.  They are in fact, interdependent.
The enemy is detected by who they hate, not their political philosophy.  There is your real enemy. To achieve success and be empowered, all liberalism must be eradicated. To ignore this revelation would be as foolish as the USA only fighting the Japanese in World War Two and leaving Germany free to bomb New York and develop nuclear weapons.
Here is your real "Axis of Evil." Destroy liberalism then watch all five of your dreams come true.
Related articles